Evolve your Wave!
USA built, tested and supported
Perfect Waves!
Evolve your Boat
EVOLVE YOUR SURFING
Evolve your surfing! Deploy the tab in 2.5 seconds. Designed to be intuitive, just push the button.
Start surfing both sides of the wave. Take half your set learning heelside, and half toeside. Learn transfers.
Even inexperienced drivers can't mess up this wave. Surf left? Push the button on the left. Done. No messing with it to dial it in.
Long Clean Waves that set up immediately
Make the Best waves! What makes it the best wave? How about a large clean face with a huge amount of surfable area, smooth transitions, a crisp lip and push all the way from the front to back.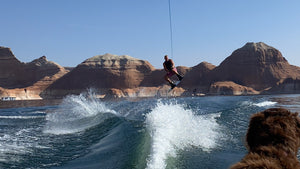 EVOLVE YOUR WAKEBOARDING
Because Evolution Tabs create lift on the back of your boat it opens up new possibilities.
Run More weight for large wakes
Get on plane faster by deploying both tabs
When up to speed retract the tabs to clean up the wake
Deploy one tab to level your boat and dial in your wake
So much more than a surf system!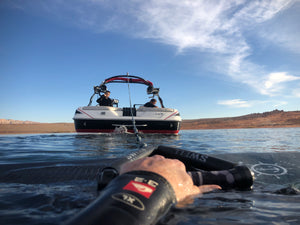 EVOLVE YOUR DRIVING EXPERIENCE
Evolution Tabs don't just benefit the rider. They evolve the driving experience. Evolution Tabs lower the nose of the boat for improved visibility, they get you on plane faster, the boat rides more level, and tracks straight when pulling a surfer. The boat turns around much easier for picking up fallen riders.
EVOLVE YOUR EFFICIENCY
By getting on plane faster and staying on plane longer it reduces the strain on your engine. In Testing we have seen 6-800 rpm drops at 10.8mph vs suction devices. The motor is quieter and burns less fuel. Up to 60% less fuel while surfing. More than just trim tabs, more than a surf system.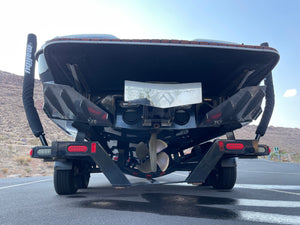 EVOLVE YOUR BOAT
EVOLUTION TABS are not just Surf Tabs not just Trim Tabs,
Why buy a new boat when you can simply upgrade and evolve your current boat? Save yourself 10's of thousands and create superior waves with your wakeboard boat by Evolving it.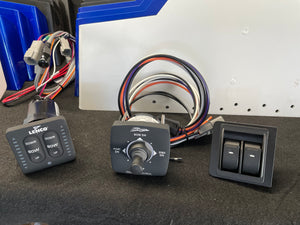 EVOLVE YOUR CONTROLS
Evolution Tabs Lets you choose how to best how you like to control your boat. Classic Rocker Switches come standard, Joystick controller or Controls with LED indicators are optional.
All our switches are momentary switches. This means that you have ultimate control in your wave and in your boat. The tab only moves when you push the button. This simple system is reliable and consistent. Generally you will simply hold the button for at least 2.5 seconds to fully deploy. The end. No messing with it. Follow our install instructions for setting it up and you won't have to put any more thought into you wave.
EVOLUTION TABS: Benefits and Value
Cost: At just under $3,000 you can create wakes and waves better than those found on $100k + boats.
Efficiency: Due to the physics of how the wave is formed you get a more efficient boat. We commonly see Fuel Consumption drop by 50% compared to other methods of creating a surf wave.
Design: Evolution and Refinement of these tabs make them extremely versatile, you can use them at speeds up to 35 mph, Use them for wakeboarding, wakesurfing and just trimming your boat. You'll be shocked that you ever had a boat without them.
Ease of Installation: We provide documentation, installation videos, phone support, facetime support. With years of experience installing on every brand of wake boat we can answer your questions. We designed these tabs to be extremely adaptable to different hull shapes and transoms. You can install yourself in about two hours. Its not tough. We did the experimenting, so you don't have to.
Other Benefits:
Reduced Fuel Consumption
Reduced Load on Engine
Reduced Engine Noise
Ability to Dial in and adjust your surfwave at the touch of a joystick
Ability to transfer sides while surfing using intuitive controls
Ability to run more weight and people with less strain
Ability to get on plane faster and with more weight
Ability to stay on plane at speeds down to 12-14mph for teaching wakeboarding to kids
Level your boat when unevenly weighted
A Brand Built on Customer Service
We set ourselves apart in the industry by providing the absolute best customer support. We love boating, surfing and wakeboarding as much as you do. These tabs put a huge smile on our faces when out on the lake and want to share that with you. We know boats and know what it takes to set them up correctly. We provide written instructions, Install videos, Phone support and will even Facetime with you to make sure your install goes smoothly. We have raving fans because we stand behind our product. We want you to be one too.
Evolution is manufactured in St. George Utah, Not in China. That mean we control our supply chain, quality control and that we are not waiting for parts to clear customs. We keep these in stock and ready to ship.
CONTACT INFO
Call or Text
801-404-3744
EvolutionTabs@gmail.com
THE COMPLETE EVOLUTION: BOAT SETUP
BOAT SETUP:
Evolution Tabs love weight in the rear of the boat. We recommend setting up your boat with a piggyback ballast system from our friends at WAKEMAKERS.COM. Go with the largest bags available for the rear lockers. Run your boat at approximately 10.8 mph. If running a Malibu we recommend using the Wedge to adjust height and length. Once you have enough height and push with weight in the rear of the boat you can look into adding more weight to the front of the boat.
TABS and BAGS. Every boat needs them.